Toshiba Information Systems (Japan) Corporation
To support development in short TAT [FPGA design and verification services]
The development of RTL, circuit boards and software using FPGA is totally supported. We provide the development of SoC, prototyping and high-mix, low-volume products with the maximum use of the advantageous FPGA feature of short TAT development.

Features
Wide range of experience with using devices of various FPGA vendors
Development of ASIC prototypes with ARM core embedded
Driver and OS implementation
Bridging to customized IC development
In addition to FPGA design, the following services support your development.
Circuit board design for evaluation
FPGA implementation work
Circuit board pattern design
Operation check
Part procurement
Verification service
A verification program that uses the CPU on the evaluation board is created for operation check.
Middleware applications for the OS of Toshiba Information Systems or other companies are developed.
* Driver applications customized for the customer can also be created.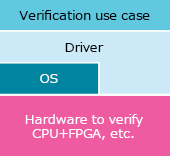 Drivers created by Toshiba Information Systems
Toshiba Information Systems drivers are also provided.
Drivers

DOS file system
Network (Wired and wireless (IEEE802.11a/b/g) + WPA compatible)
NAND Flash driver
SD driver
USB host driver

Development service for high-mix, low-volume products

We provide a service to create IC chips of the system that was demonstrated by FPGA prototyping.
Toshiba Information Systems deals with all complicated design processes for embodiment into IC, including the modification and change of RTL and timing adjustment.

System development using FPGA with ARM integration

We assist with system development to embed the ARM core to FPGA of different suppliers, as well as accept commissioned development.
Our abundant achievements in development and support provided based on the SDL contract with ARM improve TAT of FPGA system development with ARM integration.

Prototyping service

The prototype model of the target system in your plan (circuit board or IC) is developed in a short period of time. The use of the rapid prototyping models of various companies enables system architecture verification, performance evaluation, real-time verification of high-speed signal processing and the simultaneous development of software and hardware.

SoC with built-in ARM/Cortex series CPU
High-speed IPs, such as DDR 2/3, USB 2/3 and SDHC/UHS-I
Software implementation of real-time OSs and device drivers