Toshiba Information Systems (Japan) Corporation
Discontinued IC Regeneration Overview
Extending the life of IC no longer produced [Discontinued IC regeneration]
The Discontinued IC Regeneration Service renews the process of IC circuits that customers previously developed to achieve regeneration and life prolonging. The service is applicable when customized IC (digital, analog, mixed-signal or analog master) or ASIC that are currently used (or previously used) are no longer produced. Since the process of the original semiconductor vendor is not used, but rather the process of a different vendor that meets the condition of IC manufacturing in principle, this service assumes that the customer owns the rights to the IC development in question.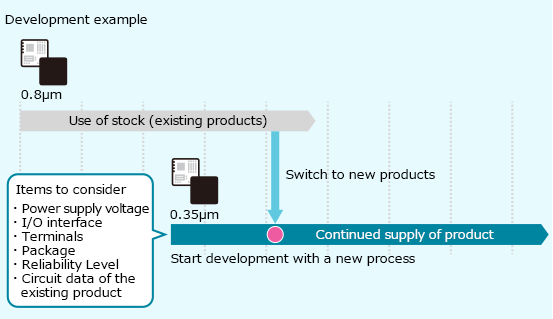 Features
Foundries in Japan and overseas are utilized to continue prototyping and supply with a new process.

Several foundries in Japan and overseas are available. When you are notified that the production of an IC is discontinued, it can be regenerated using new processes.
Development for regeneration can be started promptly if you have the design data in hand or in several weeks if IC analysis services are applied because complete data cannot be obtained. See Examples of Discontinued IC regeneration for the standard period, ranging from the start of development to the completion of prototyping and the end of reliability testing.

A package size, height and pin arrangement as similar to the original package as possible are selected so that the package can be mounted on the existing circuit board without any modification.

Small-lot orders are also possible.

Low volume production can be provided. Even a single production run of about 100 pieces is possible. See Examples of Discontinued IC regeneration for cases of low-volume production.

Process of 5V power supply can be used. Regeneration of analog master can be provided.

We can deal with 5V and 3.3V single power supply ASIC. In addition to digital, analog, mixed-signal and analog master circuits can also be regenerated.

Insisting on no change in design rules can reduce the cost.

The development cost at the time of developing the former products (price of masks and unit lot price) is significantly decreased now in many cases.
Thanks to the decreased development cost, transitioning to a new product without changing the design rules of the former product is expected to lead to cost reduction. In addition, the development cost related to regeneration will likely be recovered in a short period of time.