Toshiba Information Systems (Japan) Corporation
LSI Solutions Overview
Our expertise, actual achievements and extensive design environment in system IC design cultivated in semiconductor engineering over the years are used to provide LSI solutions. We provide strong support for customers to bring their products to market in terms of upstream to downstream processes of IC design, the supply of prototypes and mass-produced IC, and the regeneration of discontinued products.
LSI design and services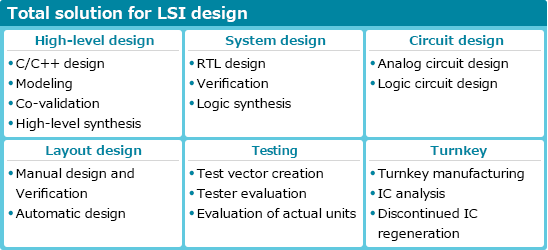 High-level design

SystemC design, modeling techniques and high-level synthesis technology are used to provide development meeting customer needs.

System design

High quality, short TAT development services are provided based on more than 20 years of experience in RTL design and verification.

Circuit design

Our extensive tools and engineers support the development of analog, digital and mixed-signal IC.

Layout design

Design expertise in the design of diverse ICs,
From a single cell design up to full-chip custom layout.

Testing

Our expertise is utilized to support easily testable design and reduce testing hours, which realizes cost reduction.

Turnkey

Production services ranging from totally-customized analog/mixed signals to ASIC are provided.
Design examples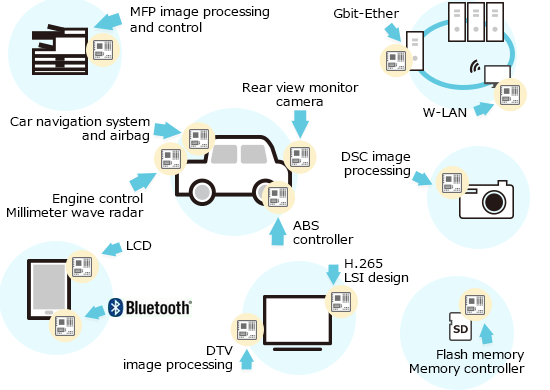 IC Design Case