Toshiba Information Systems (Japan) Corporation
analogram, a programmable analog device that integrates logic, analog cores and non-volatile memory in a 24 pin SSOP package, allows users to freely program custom analog circuits. analogram realizes analog circuit that normally require multiple discrete ICs and electronic components, reducing the number of parts and the mounting area required in products.
Running programs on the device using a PC ensures effective debugging before the program is stored in on-chip memory, and helps to lower development costs.

Key Features
Integrates glue logic and various analog cores into one chip, reducing the number of components and mounting area.
Users can reconfigure programs even after devices are mounted on PCBs, shortening development times and reducing costs.
Retains memory when power is turned off, once the program is loaded to its on-chip one-time programmable memory.
Users' Benefits
analogram replaces discrete components, such as glue logic and operational amplifiers, reducing the number of parts and mounting area on users' PCBs.
This helps to reduce the cost of users' products and inventory.
Interconnection can be set by the internal registers. Users can run their program using their PCs with dedicated software, allowing debugging before writing it to the one-time programmable memory of the device.
Users' program can be reconfigured after the devices are mounted on the PCBs, allowing a flexible response to sudden specification changes.
Writing sequences are provided to users, enabling them to write their program to the device.
Product Specifications (plan)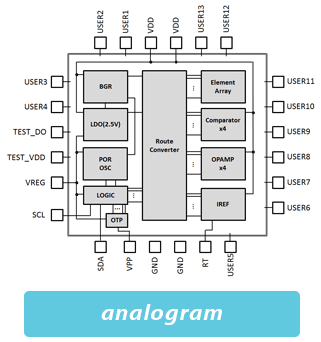 analogram
analogram
Comparators
4
Operational Amplifiers
4
Regulator
1 (2.5V)
Bandgap Reference (BGR)
1
Constant Current Source
1 (adjustable by external resistors)
Standard Logics
NOT Gate (x2), NAND Gate (x3), NOR Gate (x3)
Basic Elements
PMOS (x6), NMOS (x6), Resistors (20KΩ, x20), Capacitors (10pF, x2)
analogram Kit (plan)
Base Kit

analogram chip
User manual ( technical documentation )

Options

Program writing board
USB adaptor cable
Writing tool to analogram ( PC software )